By now, you and many others have been working from home for a good month. And we don't yet know exactly how long this situation will last. We are curious to know how your home office is doing now. Have you already created an ergonomic workplace with a laptop stand, as we shared in our previous blog? Are you experiencing physical complaints, but can't place what exactly they are caused by? We would like to explain another component that should not be missing from an ergonomic home workplace: an ergonomic mouse.
The R-Go HE Break Mouse
Maybe you don't experience complaints in your neck or shoulders, but rather in your hand or wrist. You probably don't relate hand and wrist complaints directly to your working posture. Yet many computer-related complaints are caused by the mouse. Standard mice, used in many workplaces, cause an unnatural posture of your hand and wrist. Moreover, they provoke small, stressful movements. But how do you unlearn this unhealthy way of mousing?
An ergonomic vertical mouse ensures that your hand and wrist are in a natural, relaxed position. You are thus subconsciously encouraged to mouse healthily. This means you move from your arm, rather than your wrist. You thus relieve small muscles and tendons in your hand and forearm.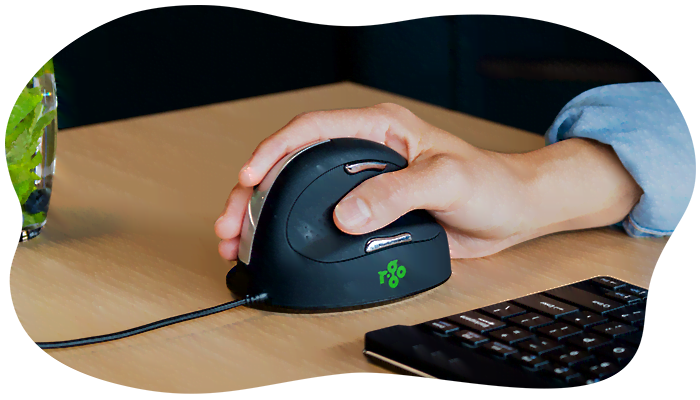 Benefits of the ergonomic HE Break mouse
You move automatically from your arm and not from your wrist, which stimulates blood circulation;
You prevent RSI due to the natural, relaxed position of your hand and wrist;
The comfortable, ergonomic shape supports your whole hand;
The mouse features customisable buttons;
Includes break indicator; The LED colour signals indicate how healthy you are working and whether you are taking enough breaks. The mouse encourages you to take breaks on a frequent basis. Quite handy, right?
Choose the mouse that suits you best
The R-Go HE Break mouse is available in different sizes: medium and large. You can also choose left- or right-handed versions. Not quite there yet? Then take a look at the rest of our range of ergonomic mice. Besides the R-Go HE Break mouse, we offer the HE Mouse and HE Sport. A quicker way is: take our online test. In three steps you will find the ergonomic mouse that suits you.