Ergonomics at work is probably not new to you. But can you offer customers a truly healthy overall solution with your knowledge? And how do you use that expertise to actually sell more ergonomic office stationary? We would like to help you with the free workshop Creating Healthy Monitor Workplaces.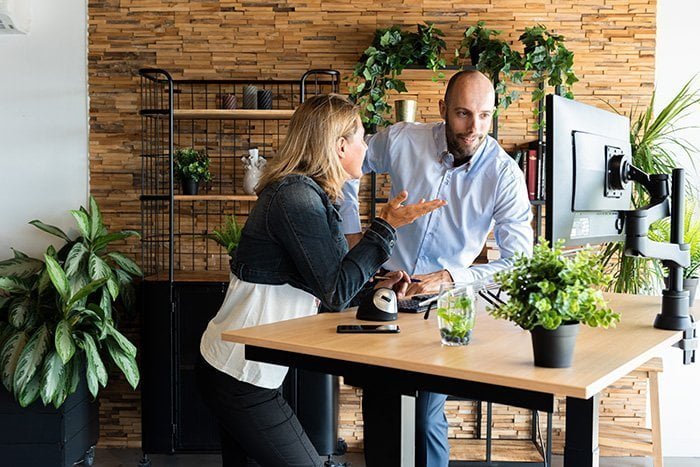 During the workshop Creating Healthy Monitor Workplaces, you will learn all about the ergonomic design of individual workplaces. Indispensable knowledge as an expert in office furnishing. Because good advice not only helps the customer: it can also boost your own sales! 
What will you learn in the workshop?
1. How to recognise and prevent work-related complaints?
Complaints such as RSI (Repetitive Strain Injury) or CANS (Complaints of Arm, Neck and Shoulder) are preventable, provided you catch them in time. In the workshop, we explain how to recognise the first symptoms and what you can do about them.
2. What a healthy working posture looks like?
By adopting a good posture at work, users themselves can have a great influence on their health. What does the ideal posture look like? And how important is it to take breaks between work?
3. Ergonomic solutions for a healthy workplace
A good desk and an adjustable chair are a must for any computer workplace. But for a healthy posture, it is also essential to set the monitor at the right height and use the right tools. In this workshop, you will learn how a monitor arm, an ergonomic mouse and other aids can make a world of difference. Give it a try!
Interested?
Would you like to be able to call yourself an expert on ergonomic working? Then sign up free of obligation. The workshop lasts 3 hours and there are no charges.