R-Go HE Sport Medium Bluetooth
Reference number:
GTIN:
In stock
Ordered today, delivered within 3 working days
Order through your own dealer?
Bluetooth connection
Optimal wireless working
Never bother with tight cables again! This wireless red Sport mouse makes mousing even easier. The R-Go HE Sport mouse easily connects to your device via Bluetooth and has a rechargeable Li-Ion battery.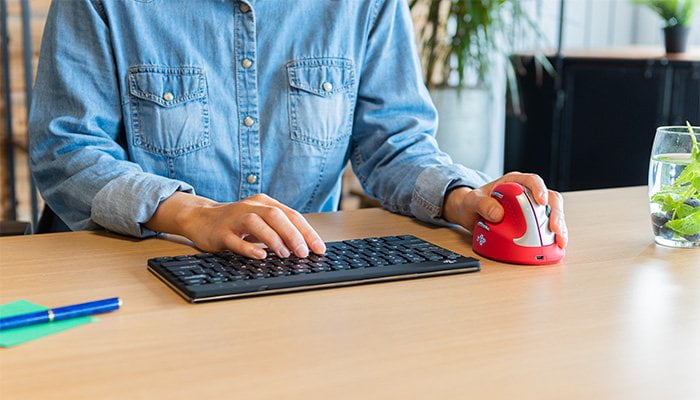 Benefits
R-Go HE Sport Mouse
Bluetooth
Natural ergonomic shape
Stimulates blood circulation
Customisable buttons
Different sizes, left and right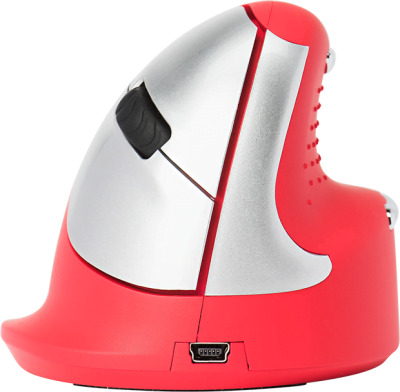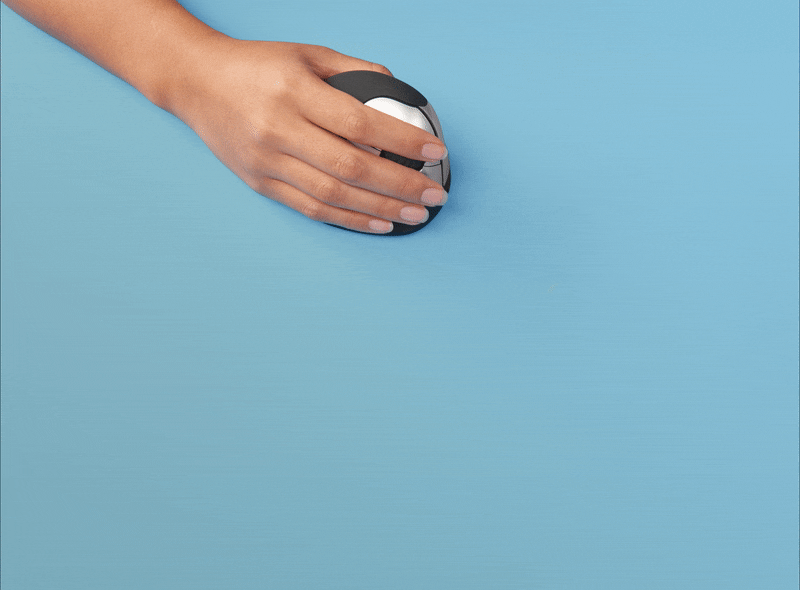 Vertical design
Mouse movement from the arm
Did you know that it is better to move the whole forearm rather than just your hand? And that last one is exactly how most people operate the mouse. This vertical mouse will help you to make healthy mouse movements from the arm, without even thinking about it. This will relieve small muscles and tendons in the wrist and hand and prevent annoying complaints like CANS. Make sure the cursor speed of the mouse is not set too sensitively, so that when moving the cursor on the screen you are also encouraged to move the whole arm.
Comfortable grip
For relaxed mouse usage
This 'mouse on its side' ensures a natural, ergonomic position of the hand and wrist. The round shape fits the hand precisely, supporting your whole hand. To prevent your fingers from sliding down during mouse usage, this mouse features a thumb and little finger support. This further reduces muscle tension and makes mouse usage more comfortable.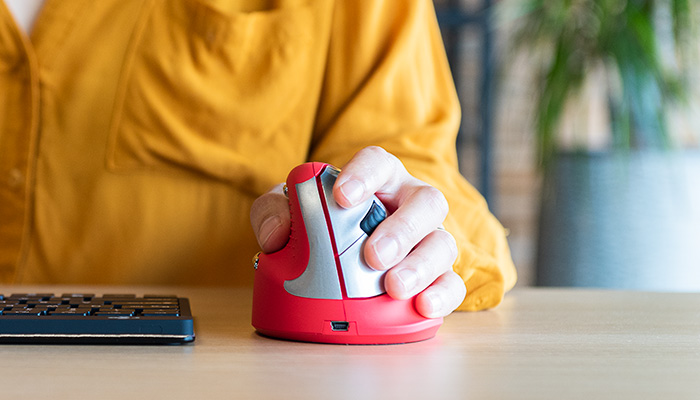 All you need to know
Description
The R-Go HE Sport Bluetooth mouse is suitable for any workplace. The mouse easily connects to your device via Bluetooth and has a rechargeable Li-Ion battery. This ergonomic mouse has a vertical design and is available for left- and right-handed usage. The vertical shape ensures a natural, relaxed position of your hand and wrist and encourages you to operate the mouse from the forearm instead of the wrist. This way, physical complaints, such as CANS, are prevented. The R-Go HE Sport mouse has a round shape, fits comfortably in the hand and supports all fingers.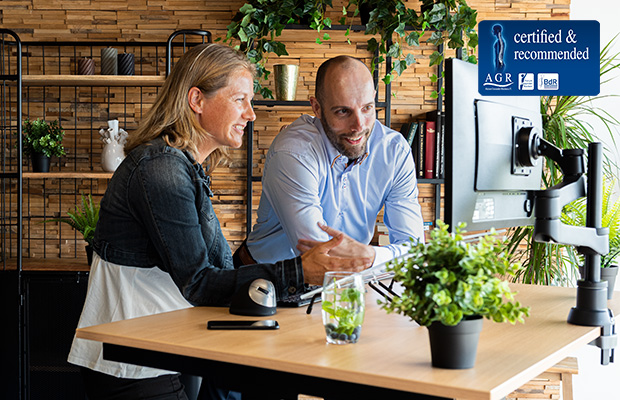 Certified
Tested and recommended
Ergonomic and body-friendly mice, keyboards, monitor arms, document holders and laptop stands from R-Go help with natural and effortless computer work. They relieve the user instead of putting extra strain on them. It is especially important that the aids fit the user, as different people have different preferences. Congratulations on the AGR seal of approval and on products that make working life easier!
Aktion Gesunder Rücken (AGR)
Details and
Specifications
General
Operation
Buttons, scroll wheel
Number of buttons
5 buttons
Warranty period (in years)
2
Medium
Handlength in inch (mm)
6.5 - 7.3 inch (165 - 185 mm)
Length in inch (mm)
4.1 inch (105 mm)
Width in inch (mm)
3.3 inch (83 mm)
Height in inch (mm)
3.0 inch (76 mm)
Weight in oz (g)
4.2 inch (106 mm)
Connection (wireless)
Resolution (DPI)
800-1200-1600-2400
Battery capacity in mAh
480
Battery charging time
5-6 hours
Charging cable length in inch (cm)
40.2 inch (102 cm)
Battery size LxWxH in inch (mm)
2.0 x 1.0 x 0.2 inch (52 x 25 x 4 mm)
Battery weight in oz (g)
8
Battery usage in hours
50
System Requirements
Compatibility
Windows, Mac OS, Linux
FAQ
Frequently asked questions
Which operating systems does the HE mouse work with?
The HE mouse is compatible with Windows/Mac OS/Linux.
Can I customise the functions of the mouse buttons?
Yes, you can customise the mouse buttons.
For Windows: You can do this via our R-Go Break software, which you can download for free at: R-Go Break Download page. This software allows you to link the most frequently used functions to the mouse buttons.
For MacOS: There are a number of options for MacOS. If you desire to configure only the side buttons (Button 4 and 5) to the 'Back' and 'Forward' functions, the SensibleSideButtons programme is the best option. This programme can be downloaded for free at the following link: https://sensible-side-buttons.archagon.net/.
Another option is USB Overdrive which you can download from the following link: https://www.usboverdrive.com/index.php/download/.
A third, paid, option, is Steermouse. For more information, you can use the following link: http://plentycom.jp/en/steermouse/
How do I change the DPI setting of the mouse?
Hold down the right mouse button and scroll wheel button for 4 seconds to change the DPI once. Repeat to go through all DPI settings.
There is no dongle with my mouse. Is that correct?
Yes, that is correct. Our wireless products work via Bluetooth. You only need to pair your mouse and your computer once.
How do I pair my mouse with my computer?
– Go through the Windows menu to 'Settings' and click on 'Devices'.
– Switch Bluetooth to 'on'.
– Press and hold the sync button on the bottom of the mouse.
– Choose the mouse from the displayed row to connect it to the computer.
Mouse hunting:
The normal vs vertical mouse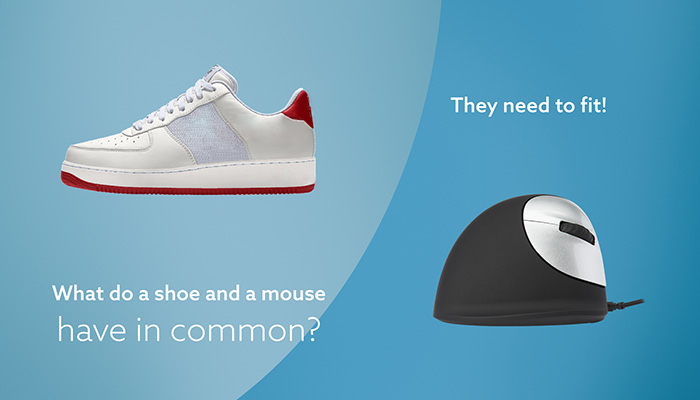 The normal, 'flat' mouse is the most commonly used input device when working on the computer. But it actually puts your hand and wrist in an unnatural position and you make small, stressful movements from the wrist unnoticed. This can quickly lead to strain.
That is why it is smart to switch to an ergonomic, vertical mouse that is designed to let you use the mouse in a naturally healthy way. Even if you do not (yet) have physical complaints such as CANS.