We started working from home en masse when the corona pandemic started. This was not only better to prevent infections but also had other advantages. For instance, long travel times fell away and working from home allowed you to organise your working day yourself. Now that COVID is slowly fading into the background, we can go anywhere again- also to the office! Still, not everyone is going back to working full time in the office. Our working habits have changed. We have become accustomed to flexibility.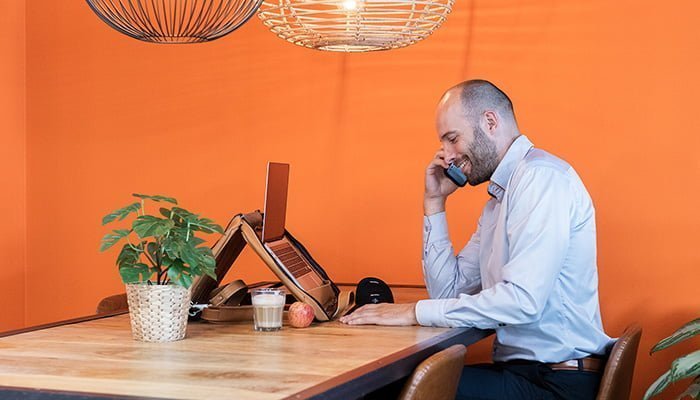 From working from home to hybrid working
Most organisations maintain home working. Much attention is being paid to this new hybrid way of working. Hybrid working allows you to switch workplaces and thus arrange an efficient working day for yourself. This allows you to work from home, office or any other desired location. Hybrid working has many advantages.
Being able to alternate between different workstations makes you more productive and more focused. You can decide which workplace is best for you according to the tasks you have planned. In addition, it is very nice to be able to reconcile work and private life by sometimes working from home. Working more from home reduces travelling time, which is also good for the environment.
What next for the office?
We expect a hybrid situation to emerge where working from home is properly combined with working in the office. And when you come to the office, what is it that you're planning to do here? In office design, there is a growing focus on individual differences and the creation of activity-oriented workplaces.
Do you have small children or is your living space small? Then it is nice to be able to come to the office and use a concentration workstation. Do you live alone? Then it is nice to be able to meet colleagues at the office in meeting or conference rooms. Office spaces will become more multi-functional. This also allows for more variety, which in turn is important for staying healthy and fit. We need to avoid everyone staying in their chairs at any cost!
Flexible working automatically entails flexible workstations. To be able to set these up ergonomically, it is important that these workstations can be adjusted individually.
What does the Occupational Health and Safety Act say about hybrid working?
Do you work behind a monitor for more than two hours a day? Then, according to the Health and Safety Act, this workplace should be arranged ergonomically. This means:
a (mobile) office chair to suit the user's body dimensions, with the following adjustment options: seat height, seat depth, backrest and armrests.
a desk large enough to perform the work (at least 120 x 80 cm) with sufficient legroom and a work surface that is height-adjustable. At home, this involves having the worktop at the right height (or being able to use a footrest).
a monitor that is rotatable, tiltable and height-adjustable, with sufficient screen size. The viewing distance is at least 50 cm.
a separate keyboard and mouse.
a document holder for when working a lot with documents during monitor work.
sufficient sitting and movement space around the workstation.
If you work hybrid, it is useful to have your own set of gear. Think of a laptop bag, foldable laptop stand, an ergonomic mouse and compact keyboard. That way you can work healthily anywhere.
Besides creating ergonomic workstations, it is important to get instructions on how to set up your own workplace in a healthy way. It is good to repeat this regularly, so that it becomes a habit. Some organisations work with an ergonomic passport with personal measurements with which the workplace can be set up quickly and easily.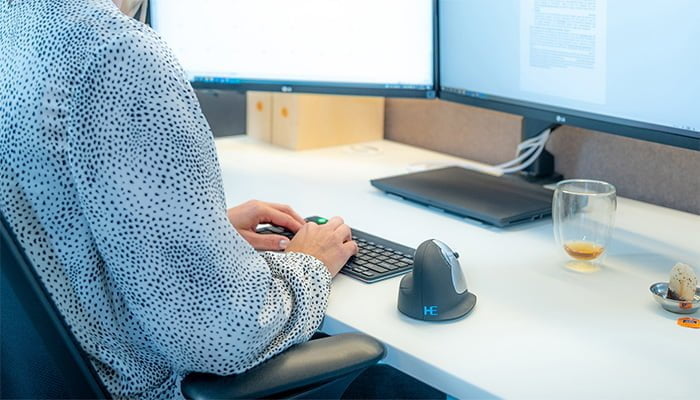 Healthy working everywhere
To make sure you can work healthily both in the office and at home, we have a few tips for you.
Provide the right equipment
Use a separate monitor or raise the screen of your laptop with an ergonomic laptop stand. Don't forget to use a separate mouse and keyboard when doing so.
Take the time to set up your workplace ergonomically
Use the first few minutes to set up your workplace ergonomically. Want to know exactly what is important here? Read more in our white paper "Create your own ergonomic workplace".
Work in an upright posture
Make sure your back is well supported in an upright posture. Place the screen straight in front of your body with the top at eye level.
Ensure relaxation and sufficient exercise
Limit the number of hours of screen work and take regular (micro) breaks. Do you work in an office? Then agree with each other to get your own coffee. This keeps everyone moving. Do you work at home? Make use of a break aid that helps you remember to pause your work regularly. Otherwise, you will stay in the same position for too long and run the risk of unpleasant back, neck or wrist complaints. Avoid sitting for too long and choose to work standing occasionally.
Do not schedule online meetings consecutively
Make sure you schedule at least 15 minutes of free time between two online meetings. This way, you can change posture and have time for a toilet break or a cup of tea.