Suffering from RSI complaints, eye strain or neck and back pain? You are not the only one. Research shows that for years there has been an increase in physical complaints attributed to screen work. A well-appointed workplace plays an important role in preventing overuse complaints. Whether you work with a desktop, with several screens simultaneously, on a laptop or on a tablet: there is a suitable ergonomic solution for every screen. But how do you know what is best for you?
The basis for your monitor
Whatever screen you use, make sure you can always adjust it to fit your body. To accomplish this, pay attention to:
Screen position:

always place the screen straight in front of your body so that you automatically sit straight.

Screen height:

place the top of the screen at eye level to avoid a hunched posture.

Viewing distance:

place the monitor at a sufficient viewing distance (50-70 cm from the screen to the eyes).

Display settings:

Adjust monitor settings such as colour and resolution.

Reflection:

Avoid annoying reflections in the screen.
Desktop, laptop or tablet?
Do you work with a desktop? Then you can opt for a monitor stand as a low-budget solution.  However, a monitor arm is the best option if you want more flexibility. It is adjustable in height and can rotate, tilt and move the screen in depth. The simplest monitor arms are meant to adjust only once, but there are also gas-sprung monitor arms that can quickly move the screen (or multiple screens) to any position you want.
Do you work more than 2 hours a day with a laptop? Then make sure you also have a raised screen, with a separate keyboard and mouse. At a fixed workstation, you can use a so-called docking station, to which you can connect your laptop and input devices. Do you prefer working from the laptop screen? Then choose a riser. When you buy one, pay close attention to the adjustment range, stability, size and weight. There are laptop risers for the permanent workplace, but also portable risers and even integrated versions that can be attached to the laptop itself.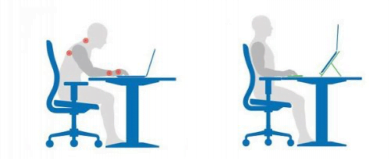 Do you use a tablet? Then it is first of all good to realise that this carries extra health risks. To stay healthy, do not use the tablet for more than 30 minutes at a time. At a fixed workstation, you can choose to place the tablet in a monitor arm. The advantage of this is that the tablet screen can be placed at eye level. There are also separate tablet risers that can raise your tablet to eye level. Do you use your tablet in several places and on the go? Then a mobile tablet riser is the best solution.
Want to read more about these ergonomic solutions?
Ask for advice
We can't say it often enough: the ideal ergonomic workplace is personal. It depends on your body type and the type of work you do. Wondering what the best options are for you? Please contact the product advisors at R-Go Tools. We are happy to help you with your questions and can advise you on the design of a complete healthy workplace.