Just a few more weeks and many Dutch people will leave on holiday. Are you too? If so, chances are you're going camping. Because camping holidays are a real hype. According to the dutch traffic agency, there were about 3.5 million active campers only in the Netherlands last year. And what do you all take with you on holiday?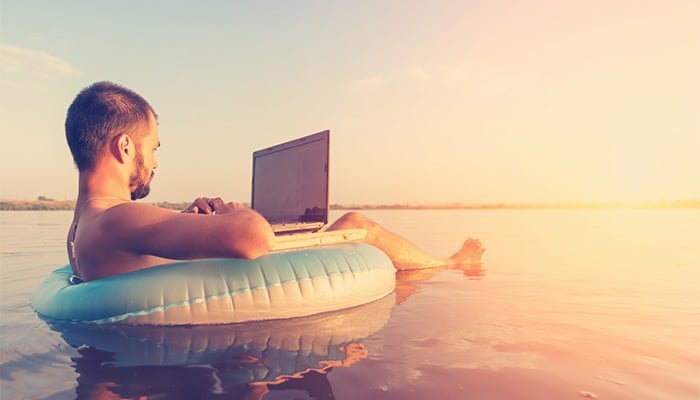 Indispensable
Besides the sunburn, the coffee maker and the mosquito spray, your mobile devices are probably essential. Whether it is the mobile phone or the tablet, notebook, laptop or e- reader, it all has to go with you. And to make things easy, there are even 4G routers on the market that allow you to connect multiple devices to Wi-fi at any location.
What more could you want?
Vacations and ergonomics
However, there is one drawback to using mobile devices while camping: where can you sit in a healthy position?
While your workplace in the office is ergonomically designed, sitting in a healthy posture behind the screen at the campsite is difficult. Camping chairs do not offer enough support while using a laptop and lying on an air mattress browsing the internet on the tablet quickly causes a stiff neck. Just when you think you are going on holiday relaxed, you end up in a cramped position behind a screen.
Screen riser
But it can be different! Did you know that the body can relax better if you reduce screen time and take breaks in between? It is also good to reduce the strain on hands and fingers by putting down small devices during use instead of holding them. In addition, reduce strain on the neck by not constantly looking down. This can easily be done by raising the screen, automatically keeping your head above the spine. You can use screen risers for this, such as the R-Go Riser Duo. This 2-in-1 raiser can raise both laptop and tablet screen to eye level. So even on holiday, you can stay healthy behind the screen!