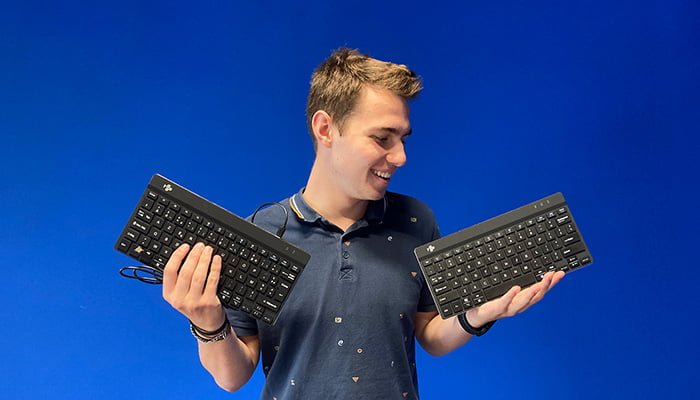 If you follow our blog, you know by now that there are a lot of different ergonomic keyboards on the market. That doesn't make your search for the ideal keyboard any easier. R-Go Tools gives you tips: what do you pay attention to when looking for a suitable ergonomic solution?
Pay attention to these 4 points
Reach

Besides the keyboard, do you also use the mouse a lot and operate it with your right hand? Then it makes sense to choose a compact keyboard. Without a fixed numeric part, the mouse can be placed in line with the forearm, relieving the shoulders. 

Muscle tension

Overuse is often caused by constant tension in the forearm muscles and tendons in the hands and wrists. With proper support for the forearms and wrists, this muscle tension can already be greatly reduced. Therefore, make sure the keyboard is as flat as possible.

Angle

The shape of the keyboard determines whether you can type with straight wrists (without a bend). However, because every person is built differently, there is no such thing as 1 correct keyboard angle. With a loose-split keyboard, you are not bound to a certain angle, and it will therefore always fit your build.

Personal advice

Make sure you get good and honest advice. Especially if you already have RSI complaints, it is important to get (independent) advice on a suitable keyboard, for example in the form of a workplace survey.
Test it yourself
Want to be absolutely sure? Then test your potential keyboard yourself. A trial placement is often easily requested. Try it out for at least one week and make sure the rest of your workplace is ergonomically designed and adjusted.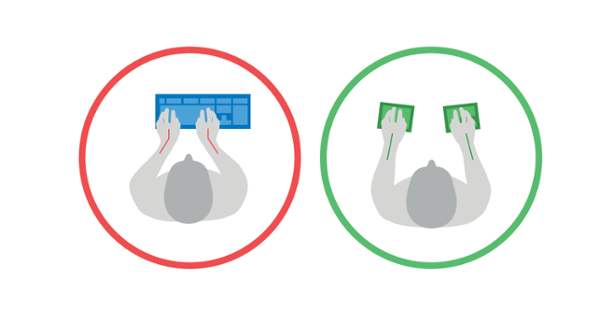 Inform yourself
Make sure you are well informed before purchasing an ergonomic keyboard and download our white paper below. It contains everything you need to know to make a well-considered choice.
Would you (or your client) like to try an R-Go Tools keyboard or find out what the best options are for you? Then contact an R-Go Tools product advisor. We will be happy to help you.