Did you know that the global top 5 warmest years consist entirely of the last 5 years? The main contributor to this climate change is CO2.
Circularity
In reducing CO2 emissions, circular solutions play a role. But what is "circular"? Circularity implies a world without waste. The circular model assumes that products of today are the raw materials for tomorrow. This results in less use of raw materials, less production of materials and end products, to reuse and recycling.
Circular solutions reduce both waste and emissions of pollutants into soil, air and water. We have designed our Zepher and Caparo monitor arms according to the principles of circularity. This allows the monitor arms to be easily repaired, reused and recycled. Designed to last!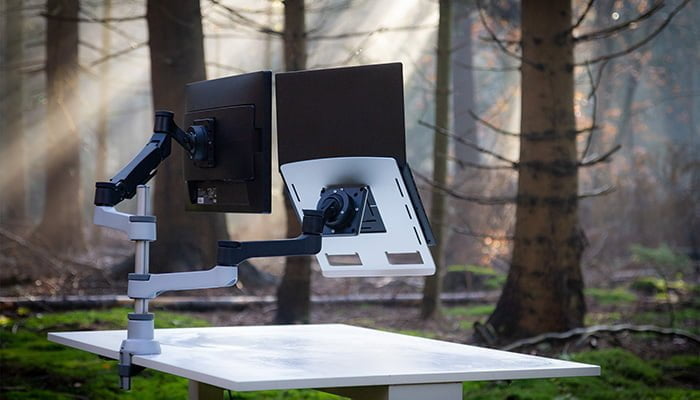 How circular are our monitor arms?
The Zepher and Caparo monitor arms are designed so that:
The modules can be easily replaced, repaired or upgraded. There is minimal weight and amount of materials.
Premium, high-quality materials are used for a long service life. We therefore give a 5-year warranty.
Aluminium is used: did you know that 75% of all aluminium is recycled and using recycled aluminium only requires 5% of the energy needed to process it?
The materials are easy to separate at the end of the life cycle: so you can easily recycle the monitor arm, as the raw materials are 100% separable.
The packaging material is 100% cardboard that folds shut easily, so waste takes up minimal space.
There is a lifetime take-back guarantee, whereby the material is 100% recycled.
Our mission
One of the three pillars of R-Go Tools is "We care for our environment". This is because we believe we have a responsibility to be good attendants of the earth we live on.
This means practically that we think carefully about how our products should be made and which materials we use.
Also contribute to low CO2 emissions?
It is now common knowledge that you yourself can contribute to lower CO2 emissions by, for example, leaving your car at home more often, eating less meat and travelling less by plane. But you can also pay attention to which products you buy. For example, our circular Zepher 4 monitor arm has an impact of 8.3 kg CO2, which is currently the lowest of all monitor arms available worldwide. To make a comparison with driving a car: this is roughly equivalent to the CO2 emissions when you drive 45.7 km in an average car.
About R-Go Tools
We develop ergonomic tools for healthy computing and deliver worldwide via partners. Our products are characterised by the unique combination of ergonomics, affordability, durability and design.