If you do not have a vital profession, you have probably been working at home for a few weeks due to Covid-19. At the office, normally everything is ready for you and you can start right away in the morning. At home, things may not go this smoothly. In a short time, you had to transform some space in the house into a workplace. With the resources you had at home. If you didn't have an ergonomic workplace already, you might be starting to notice this in your body now. But what exactly is part of an ergonomic home workplace? One item that should definitely not be missing is a laptop stand.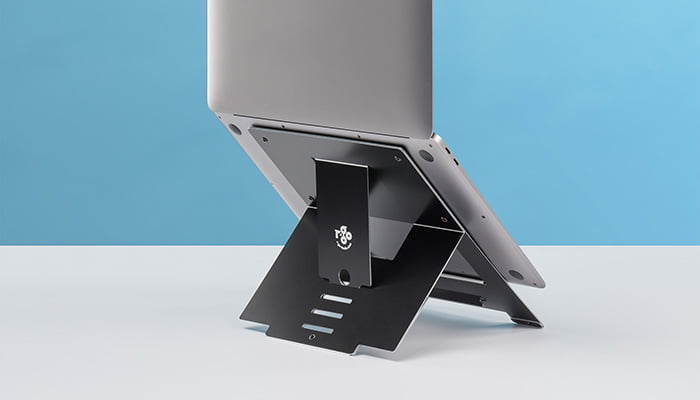 The flexible R-Go Riser laptop stand
An upright posture is important for your body. With an ergonomic home workplace you can work comfortably and prevent neck, shoulder or wrist complaints. The flexible R-Go Riser laptop stands ensure an upright sitting posture. An ergonomic laptop stand allows you to place the screen straight in front of your body with the top of the screen at eye level. The R-Go Riser can be adjusted to five different heights.
The laptop stand weighs almost nothing, is flexible and thin. So you can easily store it when you are done working. For example, you can turn your workspace back into a dining table in no time.
Of course, a laptop stand alone will not suffice. You can complete your workplace with an ergonomic mouse and keyboard. Our products offer a unique combination of ergonomics, affordability, durability and design.
Setting up an ergonomic home office
Don't have an ergonomic home office yet? Or do you have doubts whether your workplace is healthy? Then have a free workplace check done by an ergonomist. You can take a picture of yourself at your workplace and send it to us. You will then receive free advice on how to arrange your workplace ergonomically. Request a workplace check via our website or click on the Whatsapp icon at the bottom of this page.
Extra tip: Do you already use an ergonomic laptop stand and our other ergonomic products? Then you can make working even more pleasant for your body by taking a break from your posture every 10 minutes. Relax and stretch your muscles. Alternate sitting regularly with standing and walking. Your body will thank you!