R-Go Riser Document Laptop stand
Reference number: RGORIDOCBL
GTIN: 8719274491712
$114,71 incl. VAT
Only 5 left in stock (can be backordered)
In stock
Ordered today, delivered within 3 working days
Order through your own dealer?
You may also like
Make your workplace even healthier with the following ergonomic products.
Always a good posture
Whether you work in an office or at home
This laptop stand not only raises your monitor, but also has a document holder. You can place your papers in front of the laptop keyboard while working. Both your screen and papers are brought more up to eye level, which will automatically stimulate you to sit straight. The way to prevent annoying pains in neck, shoulders and back.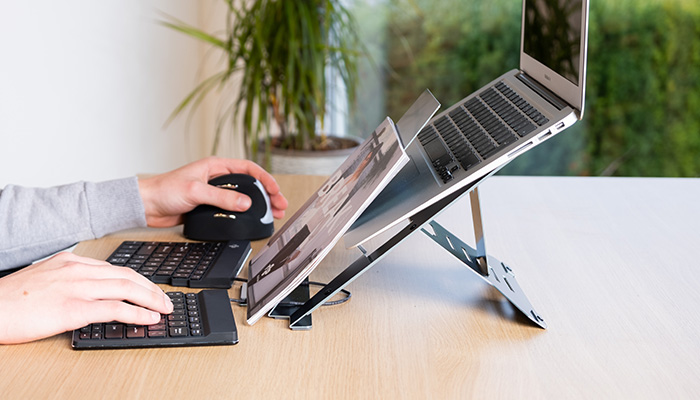 Benefits
Riser Document Laptop Stand
Lightweight ultra-thin aluminum stand
Stimulates an upright working posture
Ideal for working with documents
Adjustable in 5 positions
Easy to carry
Made in the Netherlands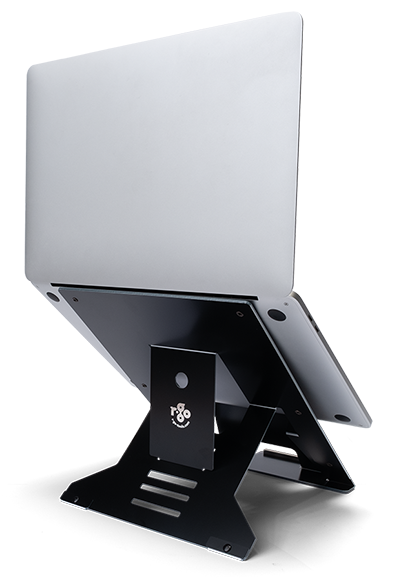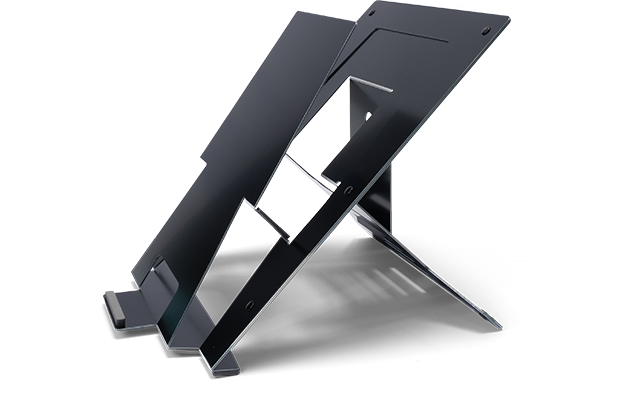 Lightweight
Made of HYLITE® aluminum
The R-Go Riser Document is made of Hylite®: the thinnest aluminum composite material in the world. This makes the stand very light. It weighs only 6.1 oz (190 grams), but has a load capacity of 1.7 lb (5 kilos). Suitable for all tablet and 10- to 22-inch laptops. This ultra-thin laptop stand is easy to carry in your laptop bag. Ideal for healthy working everywhere!
Easily adjustable
In 5 different positions
This laptop stand has 5 different positions and is easy to set up as desired. This allows you to work at eye level and prevent a hunched working posture. Very comfortable for use in the office, at home or on the road.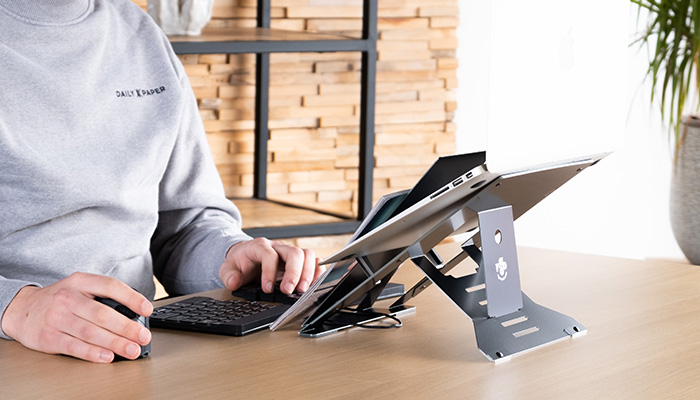 All you need to know
Description
The R-Go Riser Document laptop stand easily raises any laptop screen up to eye level. This will place your head in a natural position and reduces tension in your neck and shoulder muscles. When working with paper, you can easily place it on the document holder. This way, you always maintain an upright posture. This laptop riser is easily height-adjustable in 5 positions. The R-Go Riser is made of aluminum and has a smooth design. The Riser is ultra-thin and lightweight: ideal to take with you in your bag!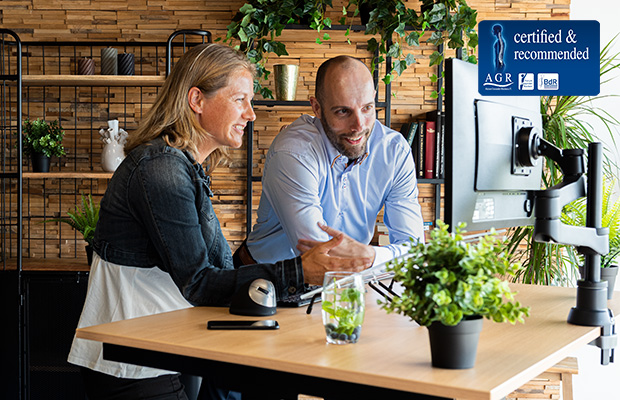 Certified
Tested and recommended
"Ergonomic and body-friendly mice, keyboards, monitor arms, document holders and laptop stands from R-Go provide assistance for natural and effortless computer work. They relieve the user rather than putting extra strain on them. It is especially important that the aids fit the user, as different people have different preferences. Congratulations on the AGR seal of approval and on products that make working life easier!"
Aktion Gesunder Rücken (AGR)
Details and
Specifications
Model and functions
Capacity in lb (kg)
11.0 lb (5 kg)
General
Suitable for screen diagonal
10" ≤ 22" Laptop
Length in inch (mm)
10.4 inch (265 mm)
Width in inch (mm)
8.3 inch (210 mm)
Height in inch (mm)
0.1 inch (3 mm)
Weight in oz (g)
6.7 oz (190 gr)
Product material
Aluminium
Other
Warranty period (in years)
2
Country of origin
The Netherlands
FAQ
Frequently asked questions
How do I work ergonomically with a laptop stand?
Place the stand so high that the screen is at or slightly below eye level. This way, you will automatically adopt an upright posture. Note: always use a separate keyboard and mouse to work ergonomically.
Increase your comfort
With a laptop stand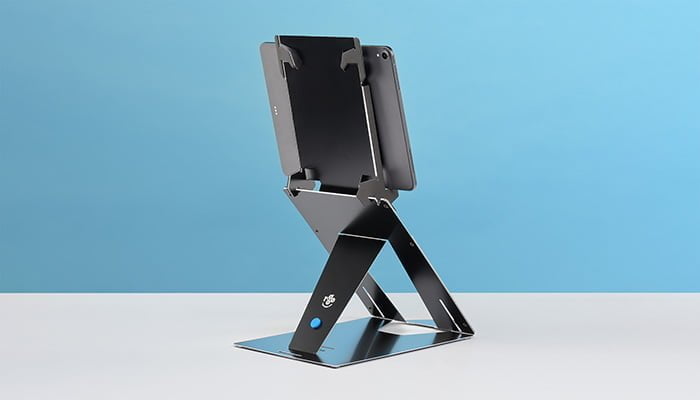 A laptop cannot be properly adjusted to your body. The monitor is not adjustable and the keyboard and mouse are unfavorable to use. As a result, you often work in a hunched posture, causing neck and shoulder pain. So why not get rid of your laptop? No need! With a laptop stand and the right tools, you can still create a healthy workplace.