R-Go Extra arm module (Caparo)
Reference number: RGOVLCA4EASI
GTIN: 8719274491033
This extra monitor arm is ideal for when you want to work with two screens. Easy to attach to a R-Go Caparo or Zepher monitor arm.
$187,31 incl. VAT
Available on backorder
Order through your own dealer?
All you need to know
Description
Our monitor arms are modularly designed so you can create an ergonomic workspace in any situation. Do you want to work with two monitors? With this additional arm you can easily expand the R-Go monitor arm. The R-Go monitor arms are CO₂ neutrally designed. The CO₂ emissions released when manufacturing a monitor arm are compensated by planting trees. Designed in the Netherlands, the monitor arm uses patented SMART functions, such as a rotation stop for each moving part. This SMART STOP prevents the monitor arm from colliding with an (acoustic) panel.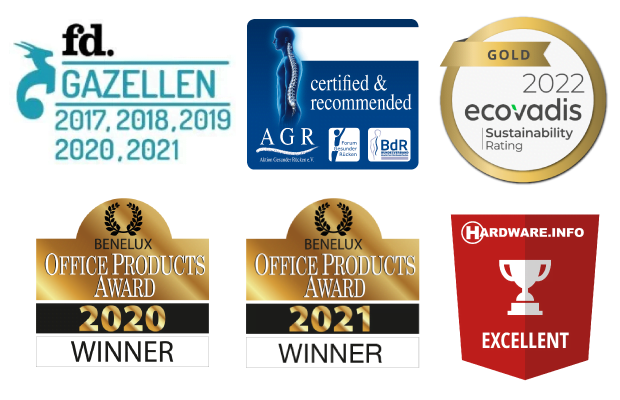 Certified
Approved by experts
We strive for ergonomic solutions that suit everyone, regardless of your height, posture and left- or right-handedness. Our new products are assessed by external ergonomists and a test panel of users. Since June 2022, our ergonomic mice, Break keyboards, Riser laptop stands, monitor arms, document holders and Treepod laptop and tablet stand are also AGR certified. In addition, we won the Benelux Office Award for the Break software and our Viva laptop bag.
Details and
Specifications
Model and functions
Capacity in lb (kg)
6.6 - 19.8 lb (3-9 kg)
General
Suitable for screen diagonal
≤ 32"
Desk mount
2-in-1: clamp (0 - 2.2 inch (0-55 mm)): Top edge clamp (standard), Conduit clamp (Ø 60, 80)
Other options
Features an intuitive rotation stop. Captures and guides cables out of sight. Installs without tools and operates effortlessly.
VESA
3.0 x 3.0 inch (75x75 mm) and 4.0 x 4.0 inch (100x100 mm)
Other
Weight in oz (g)
65.4 oz (1853 gr)
Product material
Aluminium
Warranty period (in years)
5