R-Go Smartbar
Reference number: RGOCA04SBBL
Price on request
Certified 100% circular
Sustainability starts with the design
Our monitor arms are designed according to the principles of "Circular Product Design" with the aim of keeping our carbon footprint as low as possible. The monitor arms are fully recyclable, as the aluminum and plastic used can be easily separated. We have received a "100% circularity" certificate for this.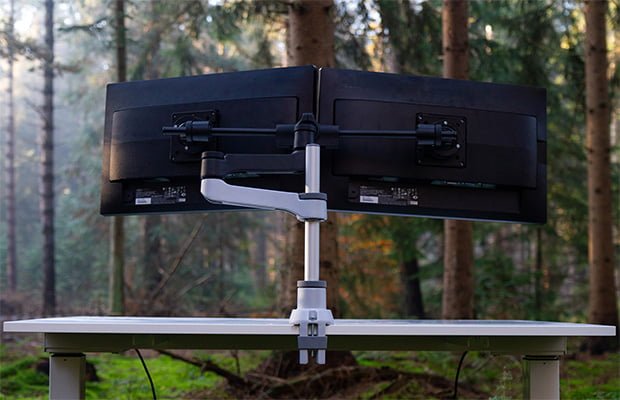 Benefits
R-Go Smartbar monitor arm
Certified 100% circular
Modular design
With patented SMART functions
Dutch design
Integrated cable management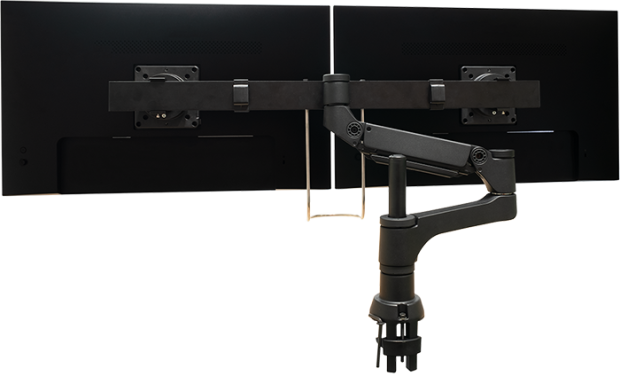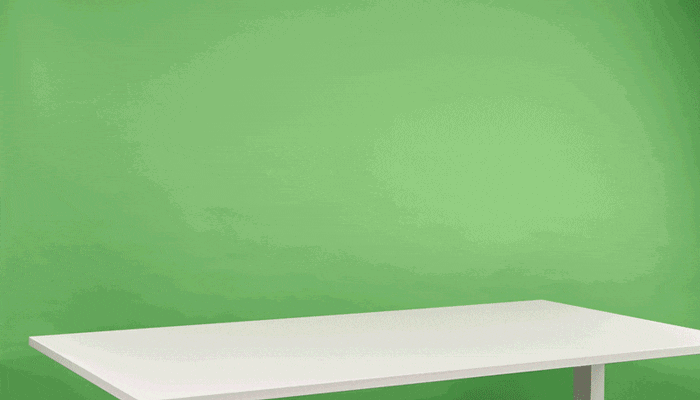 Modular design
Create your own set-up!
Our monitor arms are modularly designed, allowing you to create your own set-up. Expand your monitor arm with separate modules, such as a document holder, laptop holder, extra arm or this Smartbar. By using separate parts, you can easily upgrade your monitor arm and only replace a single module instead of the entire monitor arm during maintenance.
Easily adjustable
Adjust your screens as desired
With the Smartbar monitor arm, you can easily and quickly adjust both screens to eye level by sliding the bar up or down over the pole. The screens can be tilted and rotated as desired.
Installation from above the worktop
Our monitor arms can be installed from above the worktop. This allows you to work in an upright posture even during installation!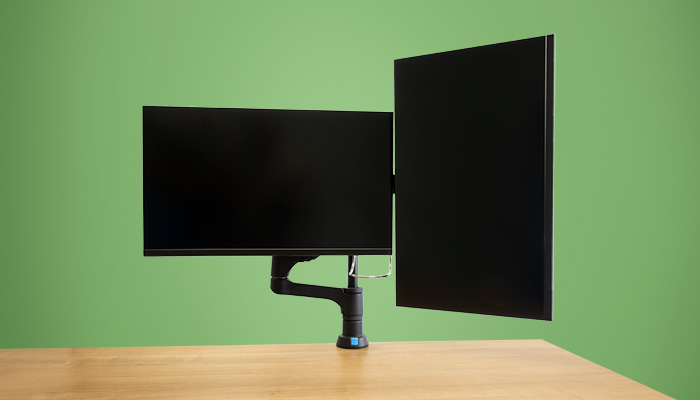 All you need to know
Description
With the R-Go Smartbar monitor arm you can easily and quickly adjust your monitors. You can tilt and rotate the screens. In addition, you can easily place both screens at eye level by sliding the bar up or down over the pole. Thanks to its modular character, you can easily extend the Smartbar monitor arm with a document holder or laptop holder as required. The monitor arm can be attached from above the worktop. This allows you to work in an upright posture even during installation! In addition, you don't need any tools for installation. The R-Go monitor arms are designed to be CO2 neutral. The CO2 emissions released when manufacturing a monitor arm are compensated by planting trees. The R-Go monitor arms are designed in the Netherlands and feature patented SMART functions, such as a rotation stop for each moving part. This SMART STOP prevents the monitor arms from colliding with an (acoustic) panel.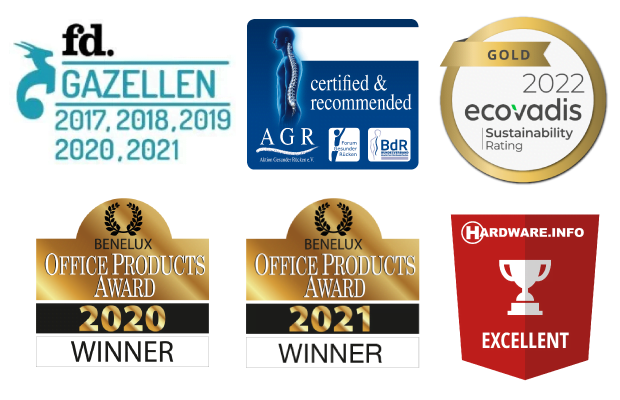 Certified
Approved by experts
We strive for ergonomic solutions that are suitable for everyone, regardless of your height, posture and left- or right-handedness. Our new products are assessed by external ergonomists and a test panel of users. Since June 2022, our ergonomic mice, Break keyboards, Riser laptop stands, monitor arms, document holders and Treepod laptop and tablet stand are also AGR certified. In addition, we won the Benelux Office Award for the Break software and our Viva laptop bag.
Details and
Specifications
Model and functions
Capacity in lb (kg)
6.6 - 26.5 lb (3 - 12 kg)
General
Suitable for screen diagonal
30"
Desk mount
2-in-1: clamp (0 - 2.2 inch (0-55 mm)): Top edge clamp (standard), Conduit clamp (Ø 60, 80)
Other options
Features an intuitive rotation stop. Captures and guides cables out of sight. Installs without tools and operates effortlessly.
VESA
3.0 x 3.0 inch (75x75 mm) and 4.0 x 4.0 inch (100x100 mm)
Other
Height range (up to center VESA)
8.3 - 22.8 inch (21 - 58 cm)
Depth range
5.1 - 23.2 inch (13 - 59 cm)
Weight in oz (g)
148.6 oz (4200 gr)
Product material
Aluminium and plastic
Warranty period (in years)
5
FAQ
Frequently asked questions
What is a good screen height for me?
Place the top of your screen at eye level. Then your neck and head will be in a natural, relaxed position during monitor work. Do you work a lot with drawing programmes? Then put the screen slightly higher, so that you look straight ahead at the centre of the screen.
6 tips
Working with a desktop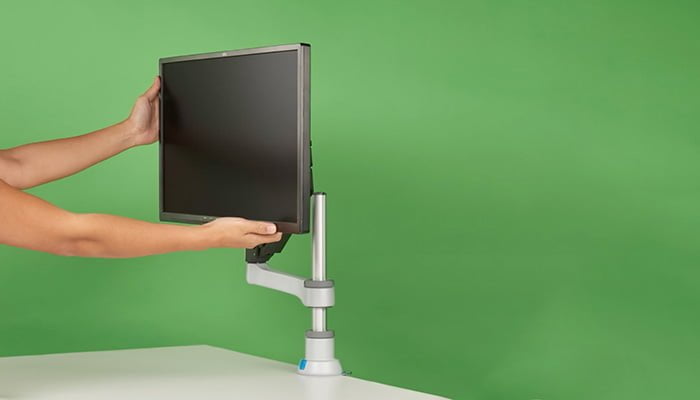 Working with computers has many advantages, of course, but unfortunately also disadvantages. As we spend more and more time behind the screen, our bodies tend to adopt a bent posture. An unnatural posture in which the neck muscles have to bear the weight of the head.
With chin on chest, this puts a force on our neck of easily 27 kilos! With the right setting of your monitor, you will unconsciously adopt a healthy posture. But how do you achieve that?