R-Go HE Basic Vertical mouse
Reference number: RGOHEBAMRWL
GTIN: 8719274491842
$58,80
In stock (can be backordered)
In stock
Ordered today, delivered within 3 working days
Order through your own dealer?
For a natural and relaxed posture
Vertical design
The R-Go HE Basic mouse has an ergonomic vertical shape, which ensures that your arm and hand have a natural, relaxed posture. This natural "thumb up" posture stimulates larger mouse movements, which are healthier than small movements from the wrist. This way you relieve small muscles and tendons in the wrist and hand and can prevent annoying pain symptoms such as RSI. Make sure you do not set the cursor speed of the mouse too sensitive, otherwise you will probably still make small cramped movements. This mouse is purposely designed to be lightweight, so you need less muscle tension to move it.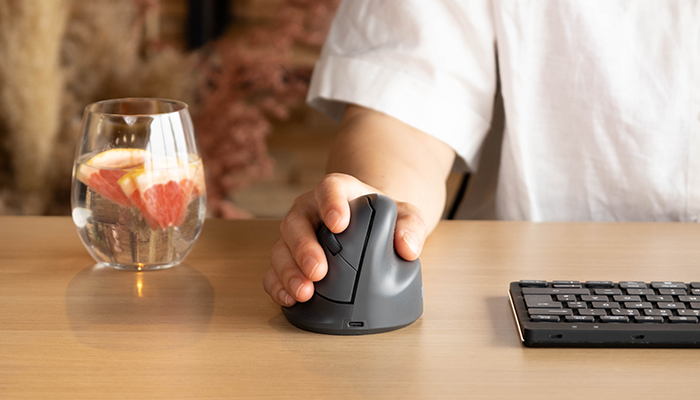 Benefits
R-Go HE Basic Vertical Mouse
Vertical design
Comfortable grip
Supports all fingers
Bluetooth connection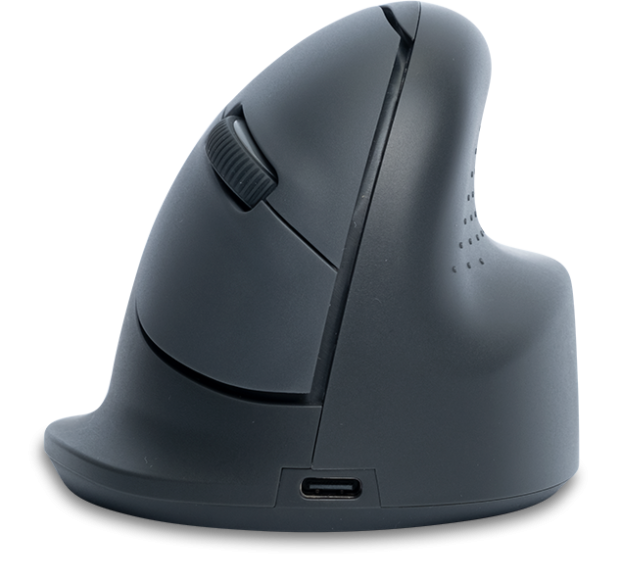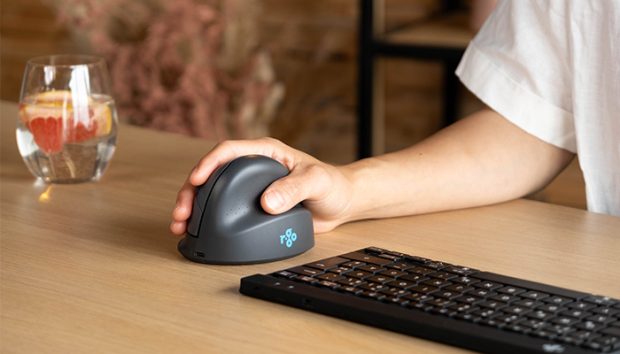 Comfortable grip
Supports all finger
This vertical mouse has a round design and fits perfectly in your hand. Your hand is optimally supported and the grip feels natural and relaxed. The HE Basic mouse has special support surfaces for your thumb and little finger. This prevents the fingers from sliding down during mouse usage and you need even less muscle tension. Mousing has never been so comfortable!
Optimal wireless working
With Bluetooth connection
Never bother with tight cables again! This wireless HE Basic mouse makes mouse usage even easier. The mouse easily connects to your device via Bluetooth and has a rechargeable Li-Ion battery.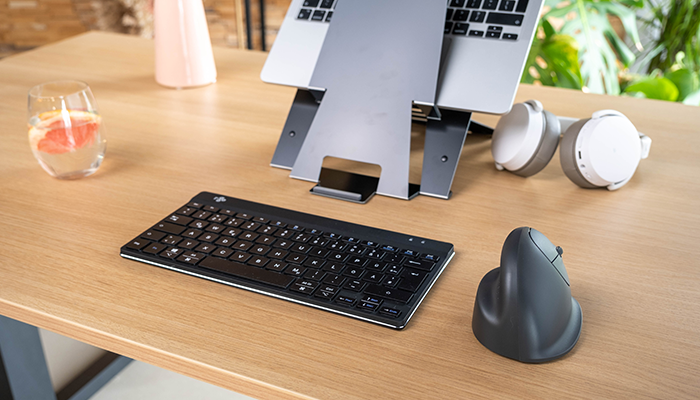 All you need to know
Description
The vertical R-Go HE Basic mouse has a curved shape that follows the natural position of your hand. This ensures that your hand has a relaxed position while using the mouse. The vertical design is intended to stimulate the mouse movement advised by ergonomists from your forearm. This prevents physical complaints such as RSI. The mouse features a special support area for the thumb and little finger, so that all fingers are supported. This wireless mouse can be easily connected via Bluetooth. The ergonomic R-Go HE Basic mouse is initially only available for right-handed usage in size M.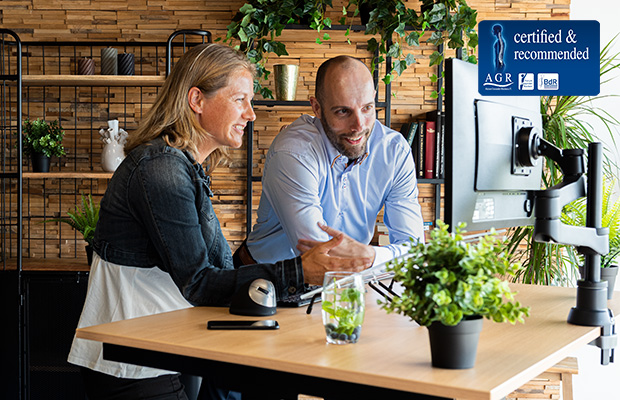 Certified
Tested and recommended
"Ergonomic and body-friendly mice, keyboards, monitor arms, document holders and laptop stands from R-Go aid natural and effortless computer work. They relieve the user instead of putting extra strain on them. It is especially important that the aids fit the user, as different people have different preferences. Congratulations on the AGR seal of approval and on products that make working life easier!"
Aktion Gesunder Rücken (AGR)
Details and
Specifications
General
Operation
Buttons, scroll wheel
Number of buttons
3 buttons
Warranty period (in years)
2
Medium
Handlength in inch (mm)
6.5 - 7.3 inch (165 - 185 mm)
Length in inch (mm)
4.1 inch (105 mm)
Width in inch (mm)
3.3 inch (83 mm)
Height in inch (mm)
3.0 inch (76 mm)
Weight in oz (g)
3.4 oz (97 g)
Connection (wireless)
Connection
Bluetooth connection
Resolution (DPI)
500-1000-1750
Battery capacity in mAh
500
Battery charging time
2 hours
Battery size LxWxH in inch (mm)
1.2 x 0.8 x 0.4 inch (30,5 x 20,2 x 9 mm)
Battery weight in oz (g)
0.4 oz (10 g)
Battery usage in hours
50
System Requirements
Compatibility
Windows, Mac OS, Linux
FAQ
Frequently asked questions
Which operating systems does the HE mouse work with?
The HE mouse is compatible with Windows/Mac OS/Linux.
How do I connect my Bluetooth HE mouse?
Set the button on the bottom of the mouse to 'ON'.
Connect to the Bluetooth device via the computer.
How do I change the DPI setting of the mouse?
For the wired/wireless medium mice: the DPI button is located at the bottom of the mouse and is labeled 'DPI'. With 1 click, the DPI changes 1 time. For the wired/wireless large mice: the DPI button is located behind the left and right mouse buttons.
There is no dongle with my wireless mouse. Is that correct?
Yes, that is correct. Our wireless products work via Bluetooth. You only need to pair your mouse and your computer once.
How do I pair my wireless Bluetooth mouse with my computer?
– Go through the Windows menu to 'Settings' and click on 'Devices'.
– Switch Bluetooth to 'on'.
– Press and hold down the sync button on the bottom of the mouse.
– Choose the mouse from the displayed row to connect it to the computer.
Mouse hunting:
The normal vs vertical mouse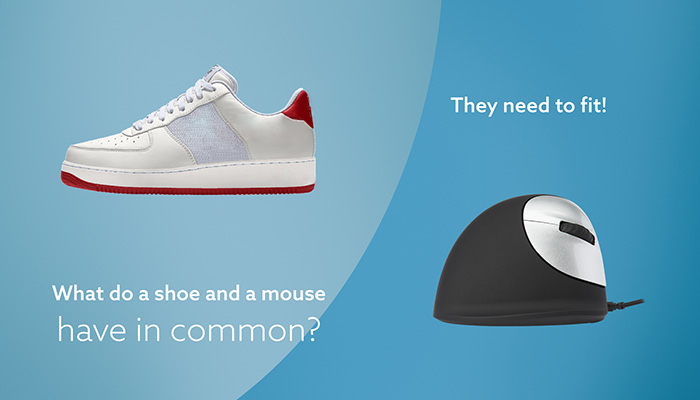 The normal, 'flat' mouse is the most commonly used input device when working on the computer. But it actually puts your hand and wrist in an unnatural position and you make small, stressful movements from the wrist unnoticed. This can quickly lead to strain.
That is why it is smart to switch to an ergonomic, vertical mouse that is designed to help you use the mouse in a healthy natural way. Even if you do not (yet) have physical complaints such as CANS.